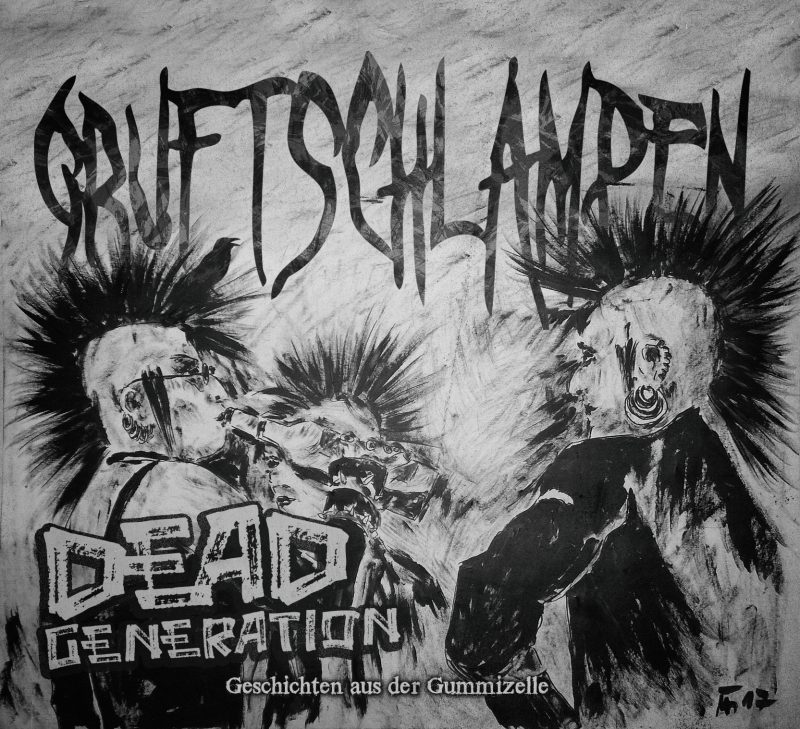 Das neue Album der GRUFTSCHLAMPEN "Dead Generation – Geschichten aus der Gummizelle" (VÖ 06.12.2019) ist die erste Veröffentlichung seit der "Raben EP" 2013 in neuer Besetzung und präsentiert nicht nur die ersten (sarg)nagelneuen Songs des Berliner Duos, sondern auch alte Stücke und längst vergriffene Demo-Aufnahmen im neuen Gewand. Das Album setzt auf Authentizität und wurde komplett in Eigenregie produziert. Proberaum-Sound oder der Charme einer Live-Performance donnert und poltert durch die Boxen. Das ist Punk! Kein Label, kein Management, kein Großhandel.
Natürlich werden Alben heutzutage auf einem anderen Level produziert. Die skurrilen Klangwelten und das unheilsschwangere Klagen der GRUFTSCHLAMPEN sprechen für sich und beweisen ein Maximum an künstlerischer Freiheit und Spielfreude. Die Songauswahl ist dabei so bezeichnend wie facettenreich. Stampfende New Wave Beats und Metal Riffs hier, ein bisschen ungeschliffener Punk dort und dazwischen fliegen dem Hörer allerlei schaurig-schräge Soundkulissen um die Ohren. Diese Art Musik ist mit Gewissheit nichts für ein breites Publikum, der Rest allerdings, der ein bisschen Wahnsinn und Extravaganz durchaus zu schätzen weiß, wird an diesem Album große Freude haben.
Whoever appreciates a little madness and extravagance will enjoy the new album. "Dead Generation – Geschichten aus der Gummizelle" is the first release since the "Raben EP" (2013) and presents new recordings of the old songs and demos as well as three completely new tracks. The bizarre soundscapes and the sinister lamentations of Gruftschlampen speak for themselves and prove a maximum of artistic freedom and joy of playing. The choice of songs is as characteristic as it is multi-faceted. Stomping New Wave Beats and Metal Riffs here, a little unpolished Punk there and in between all sorts of eerily weird soundscapes come up into the ears of the audience. It's for your bizarre delight.
1    Alp
2    Ratten
3    Brauner Sumpf
4    Dead Generation
5    Sodom
6    Gummizelle
7    Schwarz
8    Midnachtsschleier
9    Tote Kirche
10  Grausig Flut
11  Bitterkeit
12  Ordinäre Liebe
13  Befreie mich
14  Wenn die Kinder weinen/Ich bin der Tod
15  Raben
released December 06, 2019